Alex Leopold
August 06, 2015
Sun King Brewing Company was founded in 2009 by Dave Colt and Clay Robinson. They have had extraordinary success focusing on "continually creating traditional, seasonal and unique specialty beers."
Sun King's main brewery and offices are located just a few miles south from the Klipsch headquarters in downtown Indianapolis, IN. A couple years ago, we installed Klipsch speakers there, dutifully pumping music into the brewery as visitors sip on tasty beverages.
Colt and Robinson are looking to repeat that success in the Indianapolis suburb of Fishers, IN. While their plans for a full-scale brewery have been temporarily put on the hold, the award-winning brewing company built a taproom nearby. The location will eventually have a small-batch brewery inside where the mad beer scientists will concoct all sorts of delicious, hoppy beers.
Robinson said, "The new Sun King Fishers Tap Room & Small-Batch Brewery was designed with local in mind. Aside from production of Fresh•Local•Beer, when you look around you will notice that our tables, bar and light fixtures were handcrafted from locally sourced and repurposed wood, so to complete the space, it only made sense to equip the space with great sound provided by our local partner Klipsch."
For the install, we teamed up with Randy Monteith Audio & Video LLC out of Greenwood, IN. Monteith has been in business since 1991 and is well-known throughout the Indianapolis-area for providing stellar custom audio solutions.
In the taproom, there is a lengthy list of taps (duh!) with all sorts of delicious beers available in pints or growlers. For this area, we installed hanging KI-262-SMA-II speakers and a "flying" KPT-684-SW-SMA subwoofer, which were handcrafted at our manufacturing facility in Hope, AR. The subwoofer is particularly impressive, as it is quite monstrous and more-than-capable of delivering superior bass performance.
The party room is stocked with IC-525-T and KPH-525 speakers. These pendant speakers integrate really well into Sun King's industrial look. The brewing area is equipped with CA-650-T speakers, which stay out of the way and allow the brewers to focus on what they do best – make gold-medal winning beer.
If you find yourself in the Fishers-area, definitely stop by for a cold one and, of course, top-notch Klipsch sound.
We might just head over there right now ourselves…
Do you have questions or comments about this Klipsch install? Post in the comments section below.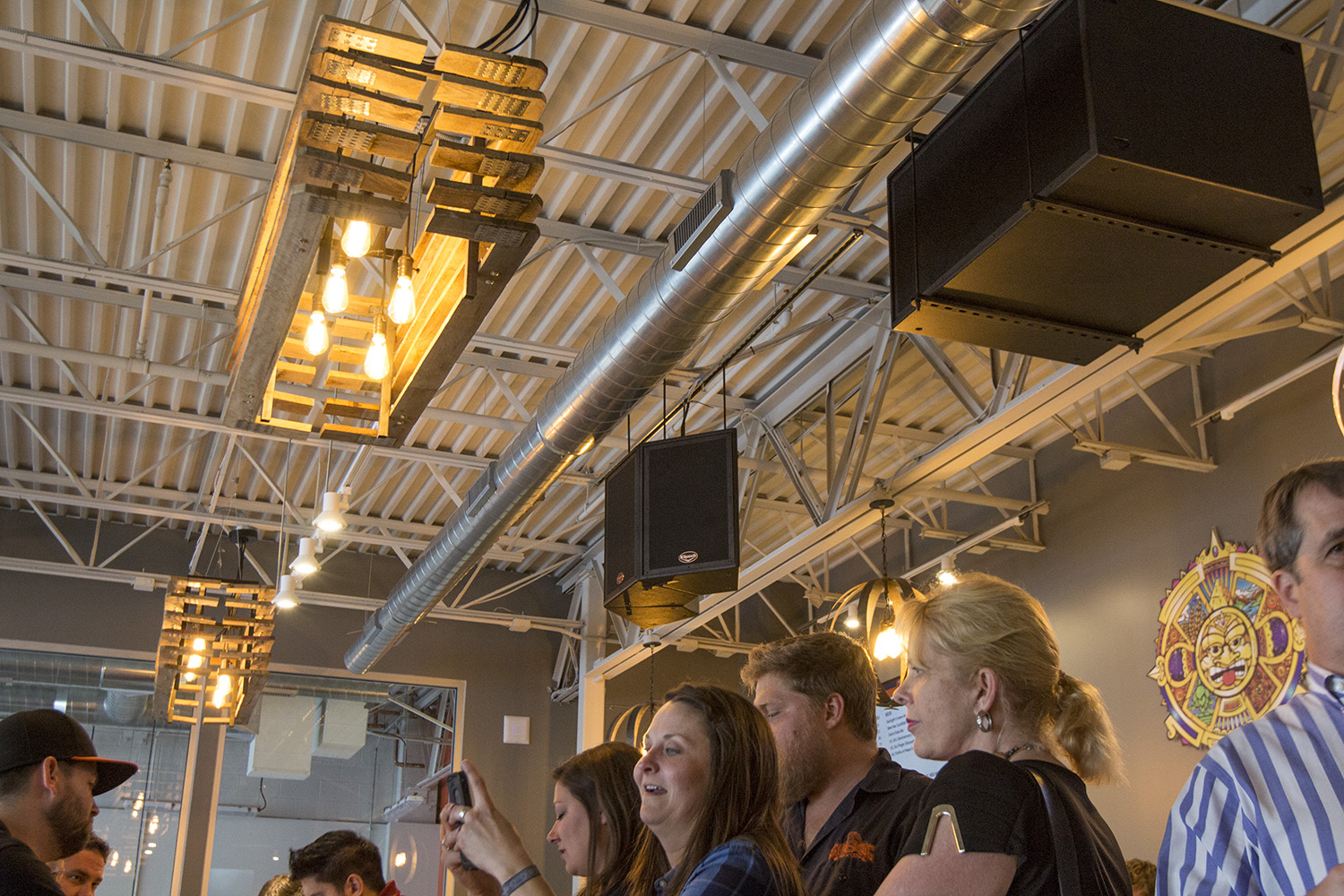 For more photos, please click here.