Alex Leopold
April 12, 2016
Vinyl is back in a big way. After all, vinyl made more money than free streams in 2016 with sales rising to their highest level since 1988, according to the RIAA. The record player is becoming practically as ubiquitous as the television in living rooms across the world.
Whether you own one record or 1,000 records, a pair of quality speakers for your record player is exactly what you need. After all, what's the point of investing in analog audio if you're just going to push the sound through some crappy all-in-one solution?
We're here to help you get the very most of out of this new-again medium.
While almost any pair of Klipsch bookshelf or floorstanding speakers would be terrific partners for a record player, we have broken down several situations to find the best speaker for your record player.
Easiest Speakers to Set Up With Your Record Player
Reference R-15PM
Some people don't want to mess around with a bunch of wires and separate devices. We get it. You just want to hear your burgeoning vinyl collection in all of its glory. With internal amplification and built-in phono pre-amp, the new R-15PM powered monitors are the best option for someone looking for the easiest way to hook up their turntable properly. These are the new standards in record player speakers.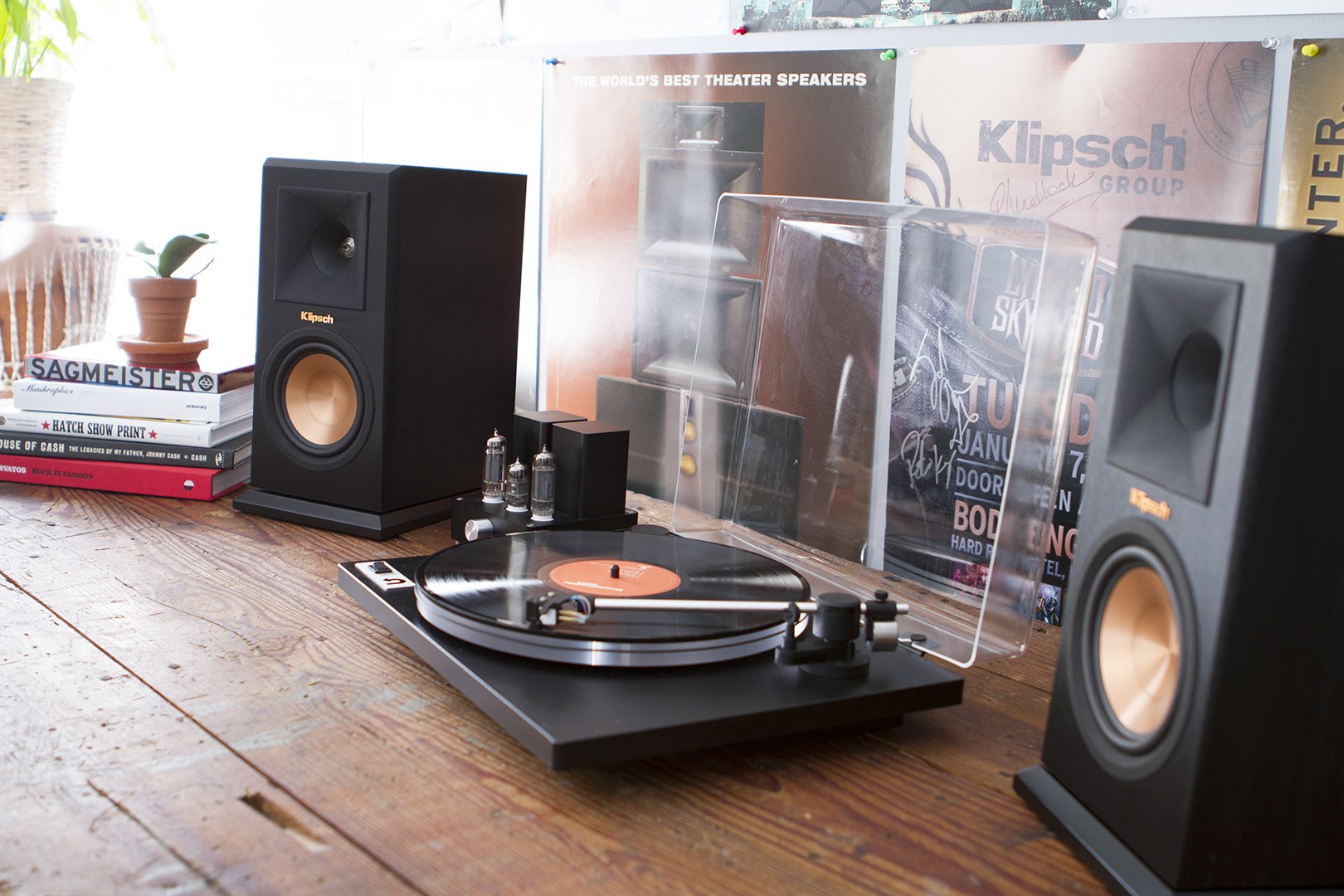 Best Passive Bookshelf Speakers for Your Record Player
Reference Premiere RP-160M
One of the biggest reasons why people get into vinyl is the desire to free themselves from overly compressed music. The RP-160M bookshelf speakers over top level performance that provides a true audiophile-grade setup. They feature 90x90 hybrid Tractrix horns, Tractrix ports, Linear Travel Suspension titanium tweeters and spun copper Cerametallic woofers. Old school meets new school in the best possible way.
Best Budget Speakers for Your Record Player
Reference R-14M
Maybe you haven't notice – or don't care – but vinyl isn't cheap. We completely understand if you want to spend more on your album collection rather than speakers for your record player. The R-14M bookshelf speakers from the Reference series will deliver a surprising amount of output, filling your room with any record you please. Everyone could use a little more copper and black in their life.
The Ultimate Speakers for Your Record Player
Heresy III / La Scala II / Cornwall / Klipschorn
You owe it to yourself to listen to a record through Klipsch Heritage Series speakers. Whether it's the Heresy III, La Scala II, Cornwall or Klipschorn, we can pretty much guarantee that your mind is going to be blown. All of the reasons why people prefer vinyl are put on full display with an exceedingly pleasing, warm and textured sound. You truly aren't going to find better record player speakers. To top it all off, each of these speakers is handcrafted in our Hope, Arkansas factory.
What do you think are the best speakers for your record player?