Dave Gans
February 20, 2015
So you've set up your living room with kickass bookshelf speakers to dial up the sound quality in your home. Good on you! But have your speakers inadvertently become the main focal point of the room? If you like the look of sleek, modern speakers, this may not be a problem. But if your home décor doesn't really mesh with your audio accessories (or your significant other isn't exactly keen on visible speakers), you might want to consider cleverly hiding them in a way that doesn't require you to sacrifice audio quality.
Another unexpected perk of disguising your gear? Seeing the look of awe on the faces of your guests who can't quite pinpoint where that ear-tingling sound is coming from.
If you're looking to disguise your bookshelf speakers in a cool, innovative way - read on for a few ideas that are sure to please.
1. Mask Them Behind Decorative Wall Coverings
Don't let the name fool you – bookshelf speakers aren't strictly for bookshelves. They can actually be placed on any elevated surface. With that in mind, in-wall setups serve as great space-savers, especially in smaller living rooms. If you're not crazy about the look, hiding them behind decorative wall coverings is an easy, creative alternative that'll also add some flair to the room. Try using rattan or any other acoustically transparent wall hanging to disguise your speakers without impacting sound quality.
Some types of decorative wall art can get the job done, too. This is a great way to enhance the overall feel and vibe of the room – while still keeping killer sound quality and acoustics intact. Just be sure to find pieces that allow sound waves to pass through the fabric.
2. Make Them Less Conspicuous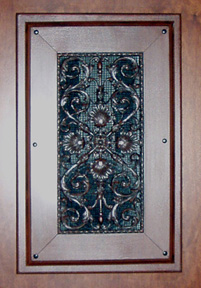 Sometimes the best approach is also the easiest. If your speakers are too dominant of a fixture in your living room, try positioning them so that they recede into your bookshelf.
As simple as it sounds, placing them back a bit can be a pretty effective trick. If your speakers still appear too "in-your-face," consider exploring the idea of using a grille cloth that coordinates better with the room's décor. This is a relatively inexpensive option that can turn your bookshelf speakers into just another seamless part of the room's decorative theme. Check out your local fabric store or online retailer for endless possibilities at price points that won't break the bank.
Similarly, you may even be able to swap out the speaker grille itself for something that's more in line with your décor.
3. Utilize Your Shelves and Cabinet Space
A cabinet within your bookshelf or media console is often times the ideal hiding spot for speakers. If your setup comes with traditional cabinet doors (i.e. solid all around), simply switch out the panels with metal grilles, speaker screens, or speaker cloth to instantly camouflage your equipment. The same easy approach also works for glass-framed cabinets. Popping out the glass, swapping in some acoustically transparent fabric and reattaching the cabinet doors actually isn't as big of a project as you might think.
4. Get Handy (and Creative)
Another brilliant idea is to make your own framed fabric speakers. It requires deconstructing the speakers a bit, but the finished product looks like something out of an Anthropologie catalog. All you need to get moving is some wood, a decorative frame, and some cool-looking fabric to rest alongside the speakers themselves.
5. Work With What You've Got
Let's face it: We can't all be handy DIY-ers. If you're looking for a less involved approached to hiding your bookshelf speakers, it doesn't get easier than simply working with what you've got.
For example, opt for speakers that naturally blend well with your existing furniture and wood grain. If it's a lustrous, more contemporary vibe you're after, Klipsch's Reference Series is right on the money – and anything but an eyesore. Hiding these bad boys will be the last thing you want to do. On the other end of the spectrum, Heritage series has a throwback look that's ideal for achieving a classic, Don Draper-style vibe.
If you're still set on disguising your speakers, consider in-wall or in-ceiling units. Doing so will not only de-clutter your bookshelf or media console – it'll also distribute stellar sound in a way that leaves your dinner guests marveling.
Have any tips of your own, or do you prefer to show off your speakers like trophies? Let us know in the comments section below.